ETA: Sign-ups extended to the Equinox! You can sign up until the end of Saturday 21 September.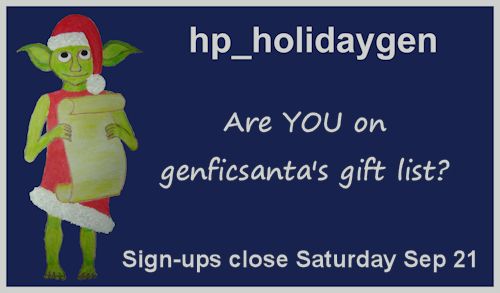 Welcome to the 2013 round of
hp_holidaygen!



As a community, we aim to spread some gen joy (or sorrow, or horror) in the weeks leading up to Christmas. You can join in by:

Signing up to write and draw for another author/artist

Helping with pinch-hitting, should that become necessary

Leaving feedback for our authors and artists

We'd like this to be an exchange of feedback as well as fic. If you sign up as a creator, you are also signing up to thank the person who creates something for you. But what makes this a community is the shared response to everyone's work. December is a busy time and few people have time to read and review everything posted, but please consider committing to review at least one piece each week (more if possible) and to read about characters you might not normally be drawn to.

Please join us! If you'd like to write or draw for the fest:

Check you're happy with the rules, which are posted on the community's profile page.

Copy and paste the template below into a comment to this post, and fill in the information. Please don't go overboard - very long lists of likes and dislikes are harder to assimilate and match.

Sign-ups close at midnight PST 21 September

You will receive an assignment to create for another participant. It will probably not be a perfect match but at least one character/scenario request will match what you're willing to create.

Please acknowledge receipt of your assignment.

If you've any questions for your recipient, send them to the mod who will pass them on.

Enjoy creating!

Send in your completed work by 24 November (midnight PST).

Enjoy all the lovely fic and art from 1 December - and don't forget to leave feedback!


Please sign-up using this template:



Comments are screened.

This year we'll also be posting on dreamwidth; you can sign up here or there

Here are your important
hp_holidaygen dates:

September 5: sign-ups begin
September 16 21: sign-ups end (midnight PST)
September 23: assignments mailed
November 24: assignments due (midnight PST)
December 1: posting begins
January 1 (or thereabouts): authors and artists revealed!

Any further questions can be directed to your moderator or sent to hp.holidaygen@gmail.com. Meanwhile, please promote the exchange -- the more participants, the better!

Your mod for 2013,
chthonya.